PopSockets® launches Swappable PopGrip!In this article we're going to tell you about the new look of this year's trendiest gadget, which takes customising your favourite company gadget to a whole new level.
The origins of PopSockets®
It all started in a garage…sound familiar?It seems to be a rite of passage for all the very best ideas of recent decades.Without question it's a beginning that makes even the simplest ideas even more epic.As we told you in this article, in 2010 David Barnett was looking for the solution to an everyday problem: how can I stop wasting time trying to untangle my earphones?The answer was simple: two buttons and a bit of glue.
This solution, simple but in no way trivial, was just the beginning: the two buttons became PopSockets® in the classic version, with countless graphics and decorative applications, in addition to the many ways to use this colourful accessory.But the road of change didn't end there.
How does the Swappable PopGrip work?
The team at PopSockets® has continued to work on new projects to perfect their gadgets and make them even more personal: the latest invention is a patented mechanism that allows you to replace the coloured disc, the PopTop, while still continuing to use the same adhesive base, the PopGrip, which has a universal attachment.
Goodbye to any sticking problems: the grip is not affected by continual attaching and detaching and the gadget holds tight.
The Swappable PopGrip is therefore designed for those who often like to change their mobile's look: why not give it a daytime outfit and one for the evening too?
Swappable PopGrip: the same comfort but now even more versatile
All the features of classic PopSockets® enhanced by the new mechanism.From a simple cable winder for earphones, PopGrip becomes a stand to keep the phone in a vertical position, allowing you to watch videos, take group pictures and shoot funny videos; it's also a comfortable grip for your smartphone so you can text messages and take pictures with no annoying blurring with one hand.And all this is possible thanks to the patented mechanism that allows you to collapse it when you don't need it and expand it completely or to one side depending on how you use it.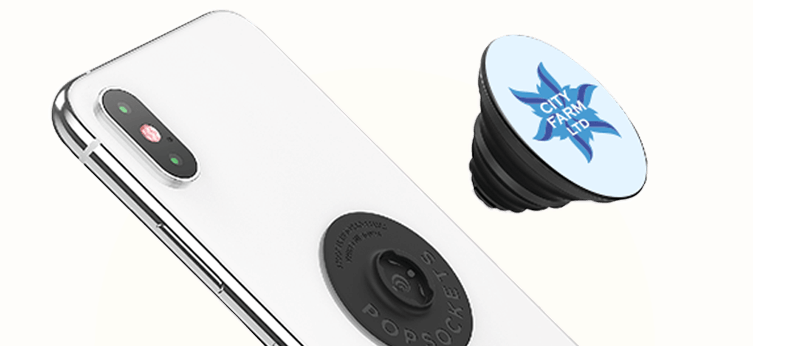 Not to mention that it adapts perfectly to smartphones compatible with wireless charging: simply remove the PopTop and you're done: smartphone on charge!
The customised and customisable PopSockets® gadget
This version of PopSockets® is therefore perfect for a customised company gadget that also becomes customisable: this gift not only showcases the specific logo or image, but also lets those who receive it reuse it as they wish in the future, by transforming it with a range of colours, materials and images depending on their mood and needs.
Not only will customers remember your company, but they will not fail to notice the focus on the latest technological and gadget trends, and they will appreciate receiving an accessory they can customise, as if they had bought it themselves.
Check out all the options on our site and look for the perfect supercool gift for your customers!